Oil prices rose on Friday after OPEC reached a tentative agreement to cut output, according to the Iranian Energy Minister. The meeting was still continuing and an agreement with non-OPEC producers including Russia was not yet finalized.
OPEC producers agreed to cut output by 800,000 barrels per day beginning in January, according to Iranian Energy Minister Bijan Zangeneh. Non-OPEC producers were proposing a 400,000 barrels a day cut, he said.
The combined cut of 1.2 million bpd is roughly in line with expectations for a reduction of 1 million to 1.4 million bpd heading into the meeting.
West Texas Intermediate crude futures were up $2.18, or 4.2 percent, at $53.67 per barrel at 10:21 a.m. ET. Brent crude, the international benchmark for oil prices, rose $3.05, or 5.1 percent, to $63.11 a barrel.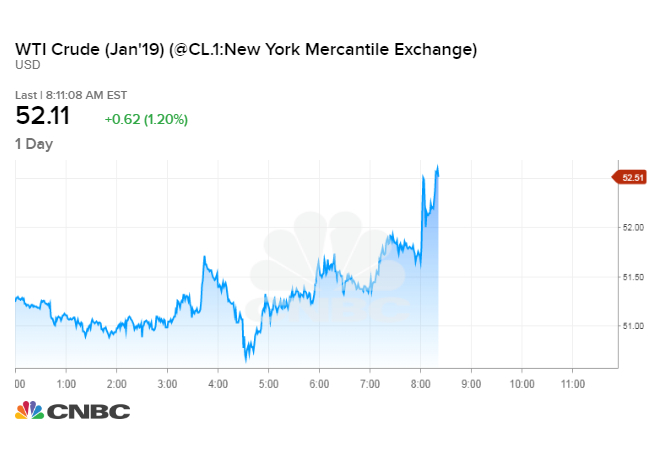 The talks between OPEC and non-OPEC members including Russia comes at a time when the oil market is near the bottom of its worst price plunge since the 2008 financial crisis. Oil prices have plunged more than 30 percent from their highs in early October.
Discussions had earlier hit an impasse because Saudi Arabia refused to agree to an exemption for Iran, OPEC sources told Reuters. However, OPEC ultimately granted Iran an exemption, Iranian Energy Minister Bijan Zangeneh told CNBC as he departed from the cartel's headquarters.
Iran's Zangeneh had said his country should not be forced to cut production in light of U.S. sanctions on the Islamic Republic, OPEC's third-largest producer. The sanctions, which are backed by the Saudis, have already significantly reduced Iran's exports.
Energy Aspects says communicating a deal properly is imperative because the market is fragile right now. The energy research firm warns that a "jumbled statement referring to some broad intention to prevent the market from being oversupplied will undoubtedly trigger a further sell-off in prices."
Crude futures fell sharply during the previous session, after OPEC was unable to agree on the terms of cuts.
The talks made progress on a critical front on Friday, with news agencies saying Russia has agreed to cut output by 200,000 barrels per day. The 15-member OPEC group had delayed a decision on how many barrels it would take off the market until Moscow committed to a specific reduction.
OPEC began capping supply in partnership with Russia and several other nations in January 2017 in order to end a punishing downturn in oil prices.
The alliance reversed course and agreed to hike output in June after it removed more barrels from the market than it intended, largely due to the ongoing free fall in Venezuelan output and supply disruptions in Libya.
The Trump administration lobbied for the mid-year production increase as it prepared to restore sanctions on Iran, a policy that has pushed up oil prices throughout much of 2018. Trump has sought to blame OPEC for rising oil prices, ordering the cartel to take action to cut the cost of crude several times this year.
On Wednesday, Trump tweeted that he hoped OPEC would not restrict supply and instead keep oil flowing "as is."
Read on CNBC