Ivermectin Has 'Antiviral Effect' Against Omicron And All Other 'Mutant Strains' Of Covid-19
A Japanese pharmaceutical company, Kowa Co, said on Monday that the drug ivermectin has an "antiviral effect" against Omicron and other Covid-19 variants.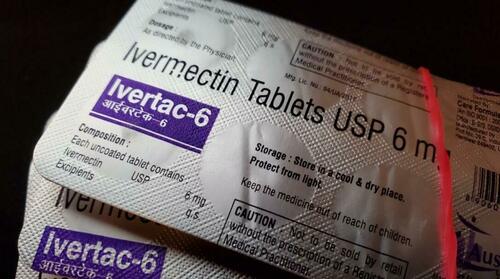 The finding was made with Tokyo's Kitasato University on a joint non-clinical research project, which has been testing the drug as a potential treatment for the disease, according to Reuters.
Kowa says that ivermectin showed the "same antiviral effect" on all "mutant strains," including Alpha, Delta and Omicron. The company also noted that ivermectin suppresses invasion of the virus and inhibits its replication.
"[Ivermectin] is expected to be applied as a therapeutic drug (tablet) for all new coronavirus infectious diseases," reads the report.
Of note, Reuters changed their original headline from "effective" against Omicron to having an "antiviral effect," and corrected a statement that the finding occurred during "Phase III clinical trials."
UPDATE – Reuters has updated the title after initial publishing. Now says ivermectin showed "antiviral effect" instead of "effective" against Omicron. pic.twitter.com/YCIz38msjv

— Disclose.tv (@disclosetv) January 31, 2022
Ivermectin is at the heart of an ongoing 'medical misinformation' campaign surrounding podcaster Joe Rogan and several expert guests who have advocated for the use of the anti-parasitic drug as an early treatment option for Covid-19 patients. Rogan himself used ivermectin as part of a cocktail of treatments when he contracted Covid-19.
Controversy over free speech erupted last week after singers Neil Young and Joni Mitchell demanded that Spotify remove their music catalog unless Rogan was silenced.
Rogan responded to the drama on in a Monday Instagram video, in which he said he only seeks to have conversations on his podcast with people who have "differing opinions," and that he isn't "trying to promote misinformation."
He noted that he's booked experts from all sides, including CNN's chief medical correspondent Dr. Sanjay Gupta, Dr. Michael Osterholm, who is a member of President Joe Biden's COVID-19 advisory board, and Dr. Peter Hotez from Baylor College of Medicine.
Rogan also pointed out that many previously-verboten Covid claims have turned out to be true.
According to ivmmeta.com, Ivermectin showed an average 64% improvement as an early treatment, a 39% improvement as a late treatment and an 83% improvement as a prophylaxis, across 77 studies.
As The Epoch Times notes;
Ivermectin has been used by the World Health Organization for over 30 years to treat parasitic infections. Volunteers have distributed the drug in African countries where it has been found to be extremely effective, said the Kowa report.
However, the treatment has been mired in controversy during recent times as the U.S. Food and Drug Administration (FDA) has not approved the use of ivermectin as a treatment for COVID-19, even though the drug is used in humans to treat a variety of conditions.
The FDA has refused to respond to a Freedom of Information Act request (FOIA) asking for details about any reports of side effects related to the use of ivermectin in treating COVID-19 while publicly denouncing its usage.
The federal government pays hospitals across the country to treat COVID-19 patients, but the payment is tied to approved methods, and ivermectin is not part of the protocol.
However, families desperate to save their loved ones are resorting to secretly sneaking the drug into hospitals as a last-ditch effort that often ends up helping the infected person recover.
All or part of 22 countries around the globe have approved the use of ivermectin in the treatment of COVID-19, based on multiple studies. Japan has not yet approved ivermectin for the treatment of COVID-19.
A bill has been presented to make New Hampshire the first state in the country to make ivermectin part of the approved COVID-19 treatments and offer it as an over-the-counter medication.
Tyler Durden
Mon, 01/31/2022 – 23:20 Read on ZeroHedge