"It's Going To Be Spicy": UPS Faces Upcoming Union Fight, Spike In Labor Costs
United Parcel Service (UPS) is facing a spike in labor costs after a union contract expires in July, along with a possible strike which would throw package delivery into chaos if the company isn't willing to meet the new demands.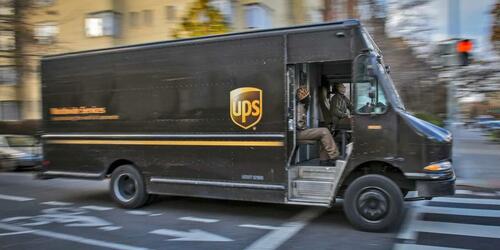 The Teamsters union, which represents 340,000 UPS employees, says the company needs to boost wages for part-time workers to over $20 an hour and eliminate a controversial two-tiered wage system, Bloomberg reports. Employees are also demanding air conditioning in vehicles as well as blocking inward-facing cameras that monitor drivers.
"We've got some great arguments on why these folks should be paid," said Teamsters President Sean O'Brien, who has promised members a hard fight. "We've got a great argument just on how much money the company's been making."
In short, UPS CEO Carol Tomé has quite the problem on her hands. The company delivers 20 million packages a day in the US alone – making it  the second-largest ground courier behind the US Postal Service. An employee strike would make it likely impossible for USPS and rival FedEx to make up for the volume from UPS customers – particularly Amazon.
A Bloomberg notes, a strike would have a much greater impact than it did in 1997, when UPS workers walked out for 15 days.
"It's pretty clear that it's going to be spicy," said Morgan Stanley analyst Ravi Shanker, who has an underweight rating on the stock. Shanker has predicted UPS may increase compensation as much as 10% a year.
Under the current contract set to expire in June, UPS had been benefiting from predictable labor costs, which shielded the company from wage spikes which have hurt FedEx – and which gave UPS a temporary advantage during the pandemic, when the demand for home-delivery surged.
UPS is hopeful (or at least spinning it that way) that they can come to a speedy agreement with the Teamsters.
"We have more alignment on key issues with the Teamsters than not. That's especially true with respect to maintaining industry-leading pay and benefits, and delivering the best service in the industry with the best safety record," said a spokesperson to Bloomberg in an emailed statement.
UPS argues that it already pays its workers, especially drivers, much more than competitors. The average wage for a delivery driver with at least four years on the job is $42 an hour, not counting pension and health benefits, the company says. A typical wage for an experienced driver at rival FedEx Ground, depending on the region, is $20 an hour and usually comes with no benefits. The company also added 72,000 Teamsters jobs in three years through August 2021, which is more than was pledged under the current contract. UPS has about another 100,000 US workers who aren't unionized.  -Bloomberg
That said, the company's ratio of compensation to sales is the lowest it's been in at least 25 years.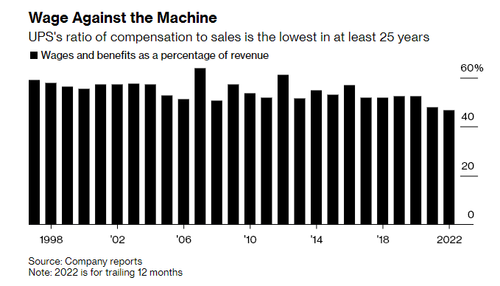 According to O'Brien, the starting wage for part-time workers should jump from $15.50 per hour to $20, in order to attract more part-time workers. He also has a broader goal of organizing more warehouse workers, including at Amazon, and intends to showcase the upcoming UPS contract as a shining example of the leverage organized labor has over employers.
"We're going to use the UPS agreement as a template to basically say, this is what you get when you work for a unionized carrier," he said.
Tyler Durden
Tue, 01/31/2023 – 23:20 Read on ZeroHedge