China Selling Treasuries And Mercedes Selling Cars
By Peter Tchir of Academy Securities
The Foreign Holders of U.S. Treasuries as of July 31st was released yesterday.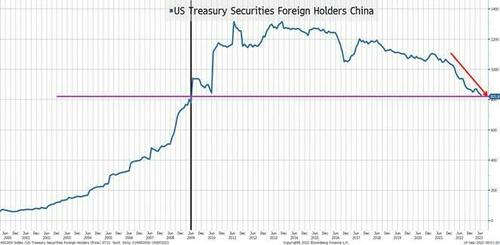 Chinese holdings dropped by $13.6 billion. That seems more in line with "run-off" than actual selling.
I don't have China's exact holdings in front of me, but generally foreign central banks tend to hold shorter maturity treasuries on average (it is a dollar/reserve/currency play, not a yield/duration play).
This seems consistent with a country that is having to spend some money to support their economy and doesn't seem to indicate aggressive selling. Having said that, I think we can safely say, that for the coming months (if not longer) this once net buyer of treasuries will remain a net seller.
The offshore Yuan is hovering just below all-time lows relative to the dollar. My expectation remains that this will continue to drift lower versus the dollar as their central bank needs to be easy relative to the Fed, but more importantly, it will act to support selling Chinese brands globally.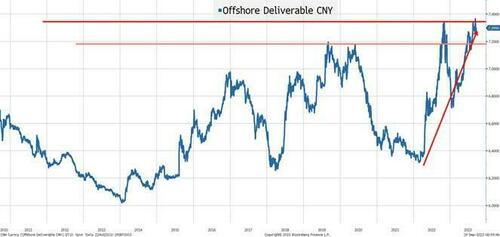 I found this interview on Bloomberg TV yesterday with the Mercedes-Benz CEO fascinating. It starts with the host trying to delve into trade issues between China and Europe. The CEO gives some very good (and politically correct) responses in regards to free trade, open markets, etc. The part of the interview that fascinated me, was his discussion of how his company discovered a long time ago, that they could and should sell autos outside of Germany. He talks about the Japanese and Korean auto makers moving beyond their borders in the past – i.e. it is a natural progression to sell your brands beyond your borders.
He seems very prepared for the competition, though he does repeat the need for a "level playing field" and his company's success selling into China (and their plans to continue to develop products that sell well there).
I think it is a good take on the Made By China strategy China is likely to employ to get out of their current economic doldrums. The CEO seems more optimistic about a level playing field than I am, but maybe that is natural as he is a public figure speaking on live TV.  Virtually all of Academy's Geopolitical Intelligence Group continues to see friction with China. While we might like to isolate that friction to high end chips, AI and military technology, it seems difficult to ringfence those areas, while having "normal" relationships in other areas of trade.
In any case, expect a lot more headlines about Chinese companies selling into foreign markets and what access companies outside of China get, in terms of selling their products into China.
Tyler Durden
Tue, 09/19/2023 – 11:25 Read on ZeroHedge