Murdered Ecuadorian Cartel Boss Buried With "Hundreds" Of Pistols, Shotguns And Rifles
Here's a story straight out of a "trigger warning" scenario for Vice President Kamala Harris' new federal office of gun violence prevention: a murdered Ecuadorian cartel boss known as "El Fatal" has been buried with hundreds of guns in his coffin this past week, the NY Post reported. 
Surrounded by hundreds of pistols, shotguns and rifles, the 39 year old was the leader of  "Los Fatales". He was getting a car wash last week when he was "suddenly ambushed by gunmen" and killed, along with his 20 year old daughter who was with him.
The murder was blamed on rival gang, the report says. 
After the murder, the cartel leader, Julian Sevillano's family refused to let the local police take the body. The family took the remains and planned a "massive funeral" for the next day, the report says.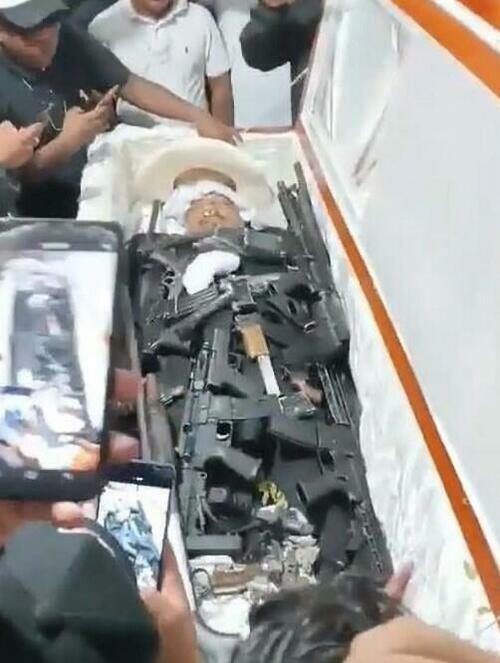 At the funeral, photos were taken of Sevillano in an open casket that people rushed to fill with weapons so that the boss could be "armed to the teeth in the afterlife and could defend himself."
The rival gang responsible for his death had tracked his movements ahead of time, the report says. "It seems that they had followed his movements, Julián always came to wash the car in the morning, his enemies took advantage of that," one local resident told the news. 
The murder may have been to "settle scores" for previous crimes committed by Sevillano.
Who knew cartel rivalries extended to the afterlife?
Tyler Durden
Sat, 09/23/2023 – 16:30 Read on ZeroHedge