"Privacy Disasters On Wheels": AOC Blasts NYC Mayor Adams' New Robo-Subway Crime-Fighting Cop
On Friday, New York City Mayor Eric Adams unveiled a Knightscope K5 Security Robot that will be deployed in the crime-ridden Times Square Subway Station.
"$9 an hour… $9 an hour. I know you wanted to write how we're wasting money, but I'm sorry I'm taking your thunder away. We're leasing at $9 an hour," Adams said at the robot's big reveal press conference.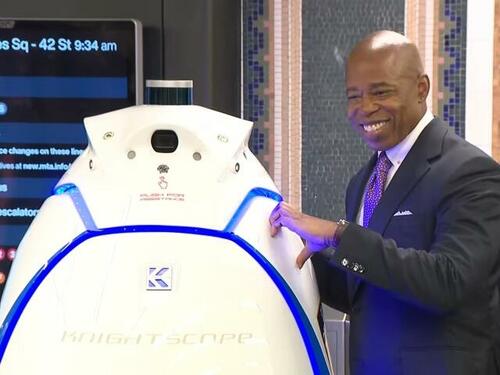 Somehow, the mayor and fellow Democrats believe this robot will deter criminals who have only been emboldened by failed social justice policies over the years. 
From afar, the fully autonomous security robot looks like a giant trash can on wheels. It's armed with cameras and will record video but not audio.
The robot comes as the mayor has slashed budgets citywide by 5% amid worsening financial conditions in the metro area, fueled by outflows of residents and businesses and a migrant crisis sparked by the Biden administration's disastrous open southern border policies. 
"This is below minimum wage," Adams said, adding, "No bathroom breaks, no meal breaks."
However, not everyone was thrilled about the robot, and there seems to be some in-fighting among Democrats in the metro area. Rep. Alexandria Ocasio-Cortez (D-NY) posted on X, "NYC schools got defunded to pay for these privacy disasters on wheels." 
NYC schools got defunded to pay for these privacy disasters on wheels https://t.co/jioP61xBbU

— Alexandria Ocasio-Cortez (@AOC) September 22, 2023
If the answer by Democrats is to deploy robots to fight crime after they pushed failed social justice reform, then this party is in real trouble.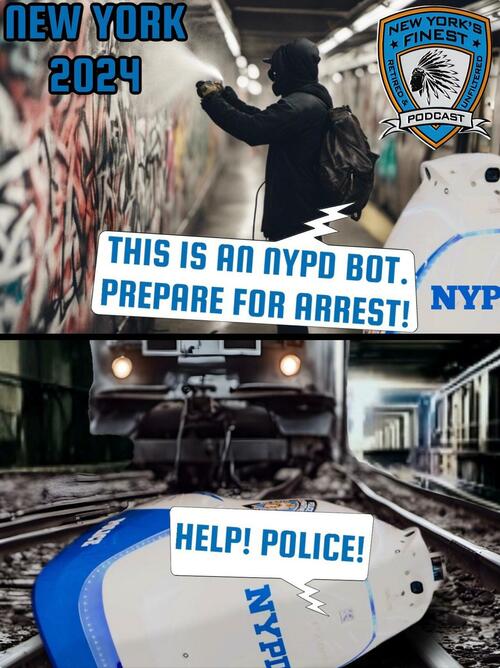 They have no credible solutions to reverse the tidal wave of crime they help spark, and voters will soon catch on to this at the ballot box. 
 
Tyler Durden
Sat, 09/23/2023 – 18:50 Read on ZeroHedge