Ukraine Says Sevastopol HQ Strike Left Dozens Of Casualties "Including Senior Leadership"
Sky News has reported that Ukraine used UK-made Storm Shadow missiles to strike and destroy Russia's Black Sea Fleet naval headquarters in Sevastopol on Friday. 
Russia conceded that one missile scored a direct hit, and videos and images confirm significant damage, but also claimed a further five were shot down by anti-air defenses. However, Ukrainian sources have said multiple missiles struck the HQ, with unverified social media images circulating which suggest at least two or multiple hit the building.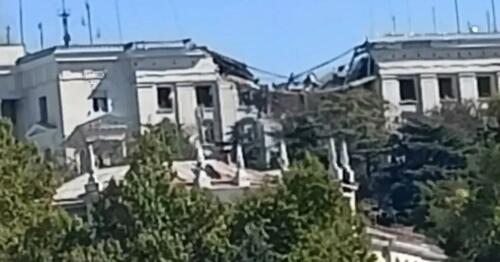 Britain and France began supplying the long-range Storm Shadows starting last spring and summer. President Biden this week belatedly approved that a limited supply of MGM-140 ATACMS missiles, with a range of up to 190 miles, will also be given to Ukraine. 
Russia in the aftermath of the Sevastopol HQ strike said that one military service member was missing, but has remained tight-lipped on details or other potential casualties. 
What's clear is that it was a very large attack, given later in the day Friday and into Saturday more and more images emerged showing the significant extent of the devastation, after fires were extinguished by a huge emergency response. 
Western analysts and pro-Kiev sources have pointed to images which appear to show more than one Storm Shadow missiles hitting Russia's Black Sea Fleet HQ…
The strike on the Russian occupiers' Black Sea Fleet HQ in #Sevastopol that killed Admiral #Sokolov appears to have consisted of at least two bullseye hits. The building was already burning significantly as the second missile struck: pic.twitter.com/8xeu3lTf4x

— Jessica Berlin (@berlin_bridge) September 22, 2023
Another discrepancy between the emerging Russian and Ukrainian narratives concerns casualties and whether top brass was impacted. 
On Saturday Ukraine's government announced that the strike left dozens of dead and wounded, among them "senior leadership." 
Ukraine's Special Operations Forces owned up to it, revealing that the operation was dubbed "Crap Trap" and involved intelligence which placed senior commanders in the building at the time of the strikes. The Telegram statement said officers were taken out, "including the senior leadership of the fleet." But the statement didn't name names. 
Online sources are circulating claims like the following in the attack aftermath:
Sounds like a signature strike that would require five eyes national assets to pull off successfully.

Guess it was just a lucky shot tho. https://t.co/7mbXCLMv0J

— Jack Murphy (@JackMurphyRGR) September 22, 2023
The full Ukrainian military statement said the following: 
"The daring and painstaking work of the Special Operations Forces enabled them to hit the Black Sea Fleet headquarters 'on time and with precision' while the Russian Navy's senior staff was meeting in the temporarily occupied city of Sevastopol."

"The data was transmitted to the Air Force for strike. The details of the attack will be revealed once it is possible. The result is dozens of dead and wounded occupiers, including the senior leadership of the fleet."
Clearly, Kiev is claiming to have pulled off not only the daring strikes inside Crimea but an extensive intelligence operation as well, given it says it had knowledge of timing of when senior leadership would be gathered inside the headquarters.
Slowed down and zoomed-in footage of the Ukrainian Storm Shadow/SCALP ALCM slamming into (and through) the roof of the Russian Black Sea Fleet headquarters. pic.twitter.com/c8mas1OzAg

— OSINTtechnical (@Osinttechnical) September 22, 2023
According to a separate statement which comes from Ukrainian intelligence: 
Ukraine's intelligence chief, Kyrylo Budanov, told Voice of America that at least nine people were killed and 16 injured as a result of Kyiv's attack on the Black Sea Fleet on Friday.

He claimed that Alexander Romanchuk, a Russian general commanding forces along the key southeastern front line, was "in a very serious condition" following the attack.
However, this has remained unverified by either the Russian side or independent reporting or observers. Al Jazeera has cited a correspondent in Moscow who describes that "both sides have remained tight-lipped about their own casualties" while "downplaying their numbers and significance and playing up the numbers and significance on the other side."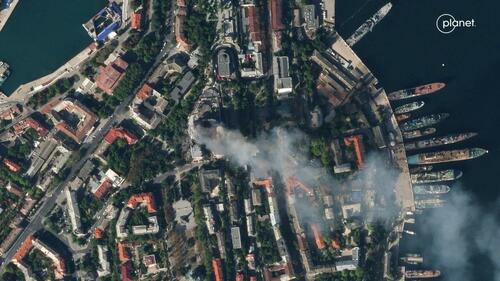 Specifically on the Friday Sevastopol attack, the same journalist said, "Russia confirmed that a service member was killed in the attack, initially we had heard that six people were injured from media reports in the area."
Meanwhile there were overnight reports saying that Russia unleashed more major airstrike on Ukraine, in retaliation for the Black Sea Fleet HQ attack.
Tyler Durden
Sat, 09/23/2023 – 14:10 Read on ZeroHedge